About ADEER
What is ADEER?
The Australian Drosophila Ecology and Evolution Resource (ADEER) from the Hoffmann lab and other contributors is a nationally significant life science collection.
Drosophila species in Australia are widely studied both nationally and internationally to understand climate adaptation, geographic range limits and the genetic basis for climate stress tolerance. The collection comprises species distribution information from 10+ years of field surveys, experimental data on climate stress response, and valuable, recently-produced whole-genome and population-level variation data. In addition to Ary Hoffmann's group (University of Melbourne), Professor Linda Partridge (University College London), John Oakeshott (CSIRO), Dr. Carla Sgrò (Monash University), Dr. Shane McEvey (Australian Museum) and Professor James Stuart Flinton Barker (University of New England) have contributed to this collection.
How ADEER works
The project will make a nationally significant life science data collection openly available to a broad community of researchers. The Drosophila Data Collection project will also act as a demonstrator for enabling broad access to scientific knowledge through publication, collection documentation, verification, preservation, and reuse planning, and as a use case for managing sustained long-term access through preservation and re-use planning. Access and preservation are mutually dependent activities – two sides of the same coin. Long-term access and effective re-use is not possible without preservation, and preservation is of little value without access and dissemination mechanisms. Through the provision of managed, curated and published research data collections, this project will, at its conclusion, provide opportunities to visibly link ANDS investment with the RDSI VicNode and NeCTAR UoM-Research Cloud Tools programs based at the University of Melbourne. The bridging of these three National Research Data driven Infrastructure programs is a highly desirable outcome for both the University of Melbourne and the researchers they serve.
Data publishing
Most data sets are openly available under a CC-BY licence and can be accessed on this site. Please see licence and citation information for specific datasets in the resource. When using data sets of this collection, please cite the original publication that describes the data set. In addition please cite the ADEER resource, including the name of all datasets used.
Example for the data set: 36 Rako et al. 2009, Male size 2008

When using this data, please cite the original publication:
Rako, L., Poulsen, N. A., Shirriffs, J., and Hoffmann, A. A. (2009). Clinal variation in post-winter male fertility retention; an adaptive overwintering strategy in Drosophila melanogaster. Journal of Evolutionary Biology 22: 2438-2444

Additionally, please cite the Dryad data set:
Hoffmann et al. Dryad Digital Repository http://dx.doi.org/10.5061/dryad.k9c31 (2015).


And the Australian Drosophila Ecology and Evolution Resource (ADEER):
Hoffmann, A. A., Smith, A., Griffin, P. C. & Hangartner, S. B. "Australian Drosophila Ecology and Evolution Resource". https://adeer.esrc.info, (2015).
Data licensing
ADEER encourages the sharing of data and knowledge for the long-term benefit of the research community. Data sharing should only occur within a framework where data contributors receive appropriate recognition for their work, and where data users understand, in advance, the responsibilities placed upon them when they access and/or use another's data.
---
Credits
Research Sponsor: Prof Ary Hoffmann
Project Manager: Ailie Smith
Research Lead: Dr Pip Griffin
Research Data Scientist: Dr Sandra Hangartner
ANDS Contact: Richard Ferrers
Owen O'Neil, Steve Bennett, Lachlan Simpson, Annelie de Villiers, Antonina Lewis, Anna Shadbolt and Michele Schiffer
Project Steering Committee
Teresa Chitty
Donna Mcrostie
Ary Hoffmann
Pip Griffin
Gavan McCarthy
Steven Manos
Sach Jayasinghe
Keith Russell
Ailie Smith
Sandra Hangartner
Leo Konstantelos
Support
This project is supported by the Australian National Data Service (ANDS). ANDS is supported by the Australian Government through the National Collaborative Research Infrastructure Strategy Program.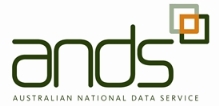 The project also acknowledges the support of the RDSI VicNode and NeCTAR UoM-Research Cloud Tools programs based at the University of Melbourne.



---
Contact
Contact Ary Hoffmann's Pest & Environmental Adaptation Research Group