Drosophila Species
Drosophila melanogaster
Summary
Drosophila melanogaster belongs to the melanogaster species group (melanogaster subgroup) within the Sophophora subgenus.
Drosophila melanogaster is a cosmopolitan and urban species. It is most commonly found in close association with human habitation, and is often found inside houses. The larvae of D. melanogaster feed on rotting vegetable matter that is undergoing fermentation due to yeast or bacterial action.
Drosophila melanogaster is one of the most studied organisms in biological research initially in the field of genetics, but later for the investigation of fundamental biological mechanisms ranging from the fields of ecology to neurobiology. The D. melanogaster genome was fully sequenced in 2000.
Related entries
Publication Citations
See also
Digital Resources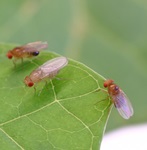 Title

Drosophila melanogaster

Type

image

Rights

Hoffmann Lab
../objects/images/d_melanogaster_hoffmann.jpg